All images on this page © the author.
---
These pictures were taken at RNAS Yeovilton on September 29 2001 at a reunion open to all ex-Sea Vixen fliers, maintenance crews and partners. There were also some aviation enthusiasts in attendance.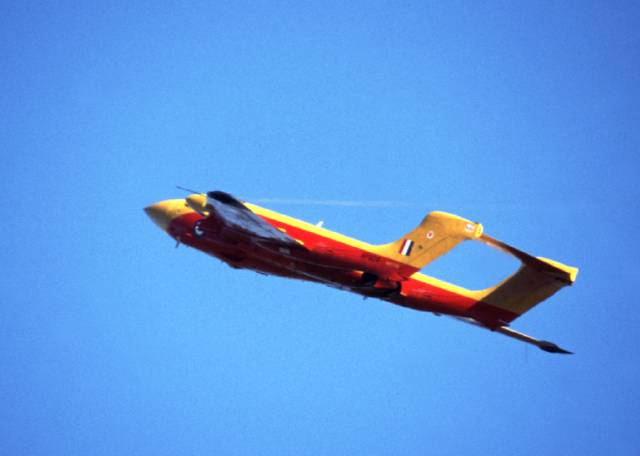 Climbing away again.
Dynax 7 and Sigma 50-500mm on Provia 400F at ISO 800, transparency scan at 710 dpi
Wing tip vortex, from the port tip, again clearly visible in this shot. The tendency for the boundary layer, a static layer of air adjacent to the wing's surface, to move towards the wing tips was inhibited by the vertical leading edge wing fences (more clearly visible in the next shot).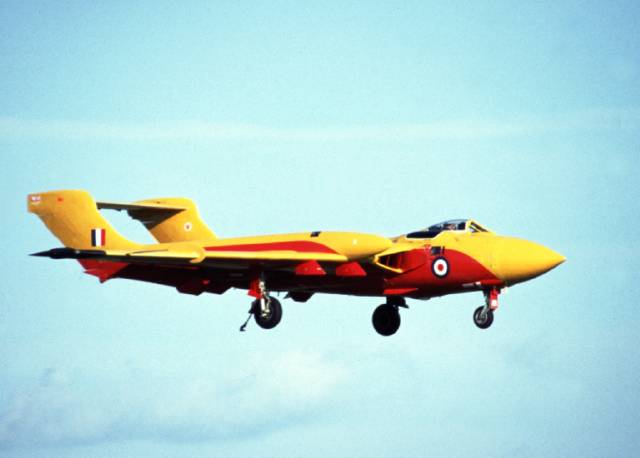 Letting it all hang out - a slow 'dirty' pass.
Dynax 7 and Sigma 50-500mm on Provia 400F at ISO 800, transparency scan at 710 dpi
Undercarriage and arrester (deck) hook down with some flap on. The starboard wing fence is clearly visible just inboard of the pitot probe. The aircraft was equipped with two pitot probes, one on each outer wing. This was often just as well as static pressure was sensed through a pair of rings of slots around the tube with the slots of one ring offset from the other. Vibration in flight caused cracks to propogate between the slots eventually causing loss of the probe tip. Checking for cracks using a special torch/magnifier at each turn-around or before flight service became the norm.


This picture shows clearly the cockpit configuration with the observer buried in the 'coal hole' lower, to starboard of centre and slightly aft of the pilot. The first Mk 2s had the original flush hatch to the observers cockpit. The humped version on this aircraft is the later standard frangible hatch which allowed ejection through the hatch. The flush version required jettisoning first. The lack of windows in this cockpit was required to keep the light level down and allow the dim radar screen to be visible. The frangible hatch made it viable to implement 'command ejection' where upon suitable selection in the cockpit, and as required, the pilot initiating his ejection would eject the observer first, no doubt with a surprised look on his face.

---
| | |
| --- | --- |
| Feel free to e-mail me with any comments and feedback. | |
---