Miscellaneous Other Buildings
Weald and Downland Open Air Museum
Singleton, Nr. Chichester, West Sussex. England

All images on this page © the author.
Camera used: Minolta SRT-101.
---
Toll Cottage from Beeding, Sussex.

Dismantled and moved to the museum in 1968 after a lorry had severely damaged the structure, the toll cottage dates from 1807. A date pinned done from authorisation by Parliament of "the new road to avoid Beeding Hill, from Beeding through Old Shoreham to the south-east corner of the Sheep Fold in the parish of Kingston-by-Sea". The toll cottage being intended to control traffic on this road.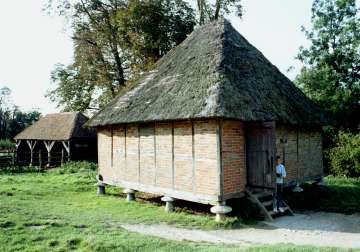 Granary from Littlehampton, Sussex.

The date 1731 chiselled into a brick at one side of the door provides a valid date for this granary, the brick infill and general construction being correct for the period. The timbers are mostly elm but with some oak. The present straw thatch is not typical of the Downland area where reed thatching would have been used. Straw has been used for its lasting quality, with new chestnut cleft battens being used to replace the worm-eaten originals.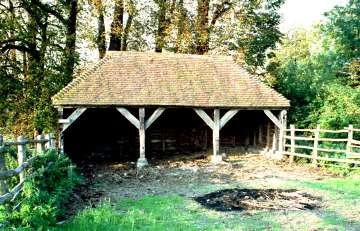 Cattle Shed from Lurgashall, Sussex

This cattle shed dates from the late 18th or early 19th century. This shed is one of two, the other from Kirdford being adjacent and at right angles to the Lurgashall shed and distinguishable by the use of upward curved cross beams between the uprights to support the eaves plate and provide bracing, rather than the corner braces seen here.
Next page: Catherington Treadwheel (three pictures)

---
Feel free to e-mail me with any comments and feedback.
---