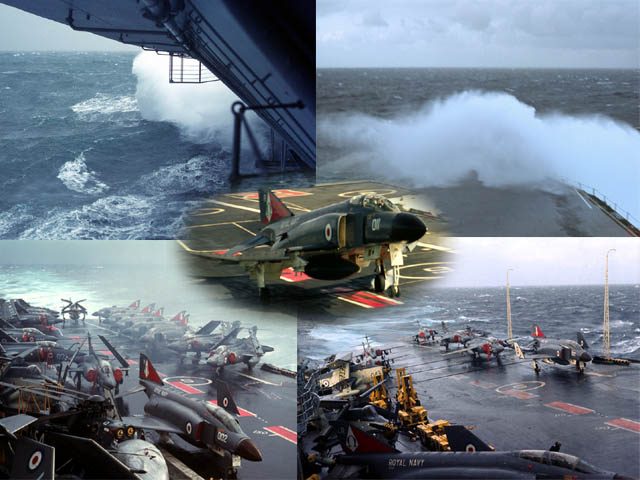 Ark Royal IV in rough weather, views taken from a platform on 2 deck amidships port side and from the top of the FLYCO bridge wing. Minolta SRT-101.


Large 136Kb.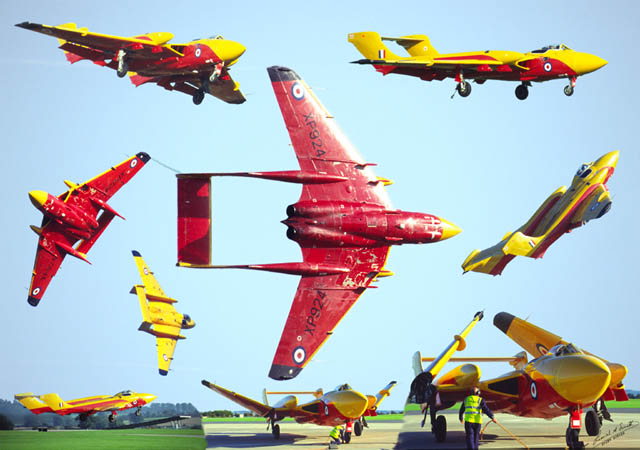 Sea Vixen D3 (ex FAW2 XP924 of 899 Squadron and HMS Eagle) C-CVIX flying at the 'Sea Vixen 50' re-union, RNAS Yeovilton on September 29 2001. Minolta Dynax 7 and Sigma 50-500mm.


Large 123Kb.

Parade of Sail in the Solent August 2002. Picture taken mid afternoon looking from Gillkicker towards Southampton. Minolta Dynax 7 and Sigma 50-500mm.


Large 50Kb.

At the most westerly point of the British mainland; the Ardnamurchan Light with the islands of Muck (near, just right of buildings), Rum (behind and much larger than Muck) and Eigg on the horizon. To think that I sailed through these waters on Ark Royal, on one occasion at night in tempestuous seas after having come through the heaving Pentland Firth whilst Captain Raymond Lygo, now Admiral Sir Raymond Lygo KCB, was in command. A memorable night. Minolta Dynax 7 and Sigma 14mm Ultra Wide.


Large 46Kb.
Below: Some pictures from Oslo, late September 1970.
All Minolta SRT-101 with standard 55mm f1.7 ROKKOR. I had to wait until we called at Gibraltar to add a wide angle to the photo' kit, along with another SRT-101 this with a 58mm f1.4 ROKKOR. Unfortunately because of problems with Ark Royal's arrester wires that did not happen as planned on the way into the Med' as a call at Devonport for rectification had put the ship behind schedule for the planned exercises and visits. I could certainly have used a wide angle for some of the shots available in Malta, Naples (Pompeii and Vesuvius) and Rome. I had to wait for a Caribbean deployment before adding a 300mm Tamron to join the 135mm Tamron obtained before joining Ark.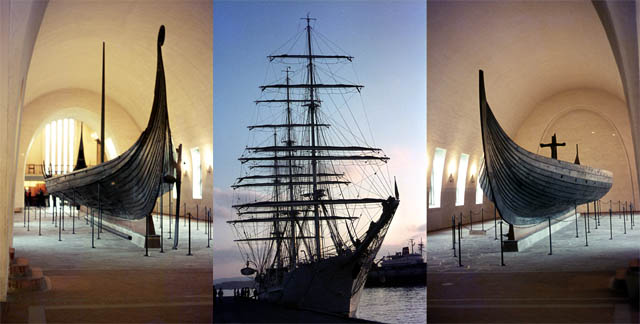 Left to Right: The Oseberg Ship, the Hans Christiansen and the Gokstad Ship. Also have a good picture of the whale shark beneath the Kon-Tiki raft.


Large 98Kb.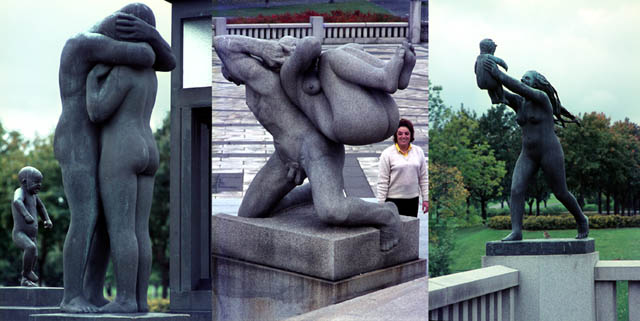 Just three of many pictures taken in Viegtland Park, Oslo.


Large 103Kb.