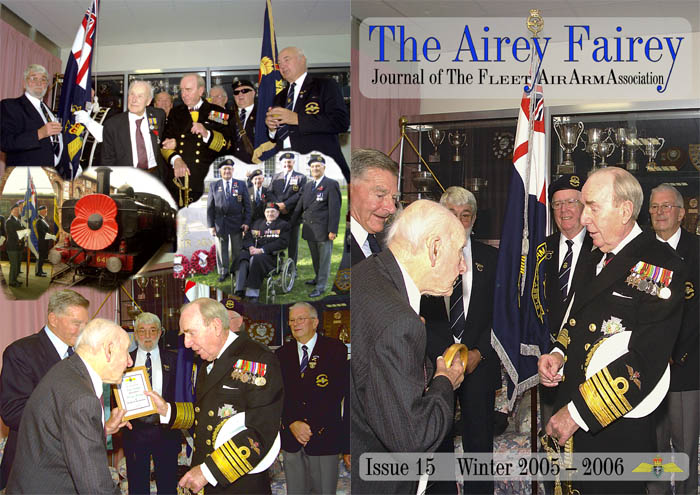 The Airey Fairey Issue 15 cover shows three pictures (front cover and upper and lower images on the rear) taken on the occasion of Henry Allingham (109 years old at the time) being presented with Honorary Membership of the Fleet Air Arm Association (FAAA). The presentation was carried out by FAAA Patron Admiral Sir Raymond Lygo KCB at St Dunstan's, Ovingdean on 9th October 2005. After the presentation some FAAA members sat down to a lunch with Henry, Sir Raymond and their assistants. Henry was in great form recounting numerous interesting stories of his time as an Air Mechanic with the Royal Naval Air Service (RNAS) during World War 1 and of his later careers with a motor car builders and important World War 2 work. Pictures by The Editor (Konica/Minolta Dynax 7D).
On 6th June 2006 Henry celebrated his 110th Birthday. The Fleet Air Arm Association sent Henry a birthday card (designed by the editor). It was gratifying to note that on the day Henry was wearing his FAAA tie. Vice Admiral Johns CBE ADC, Second Sea Lord and Vice Admiral FAA was one of the dignitaries who attend to give Henry a personal greeting. The Royal Navy Historic Flight's Sea Hawk jet aircraft carried out a flypast in Henry's honor. The RAF also put on a show. Pictures can be found on The World War One Forum and stories on the BBC website Birthday and Fly-past. Henry Allingham's FAAA birthday card.
The inset pictures on the rear of the cover left is from Bob Ridout Yeovil Branch FAAA secretary, of the Poppy Express which took part in Somerset's Poppy Day Appeal launch
The inset pictures on the rear of the cover right is from Reg Veal (in wheel-chair) and shows a group of FAAA luminaries at the Fleet Air Arm Embankment Memorial which they visited after their stint at the Cenotaph on Remembrance Day 2005.