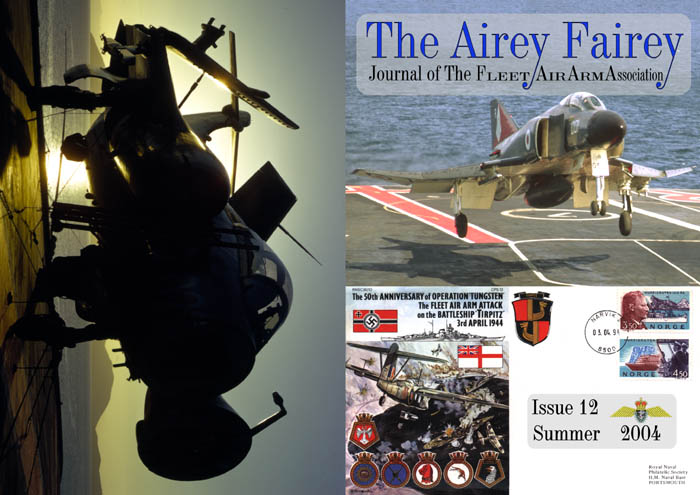 The Airey Fairey Issue 12 cover (above) has on the rear a shot of a Buccaneer of 809 Squadron whilst Ark Royal was visiting Virgin Gorda in early 1972. The Phantom picture on the front cover was taken in November 1970 whilst Ark Royal (Captain Raymond Lygo) was in the Mediterranean. The Phantom is 001 (R) XV565 which was later lost off Mayport, Florida on 28 June 1971 when the aircraft went into an unrecoverable spin at low level during air-combat manoeuvres. Both crew members Lt. DA Hill and Lt. MJW Granger-Holcombe ejected safely.
The lower front cover depicts a 50th Anniversary Special Postal Cover celebrating operation 'Tungsten', the Fleet Air Arm raid on the German Battleship Tirpitz in Kaa Fjord just south of Hammerfest, northern Norway. 2004 marks the 60th Anniversary of the 'Tungsten' raid and the follow up Goodwood raids, lost in the background perhaps due to all the D-Day anniversary publicity.
The Tungsten postal cover was supplied by, and is reproduced with the permission of, the Royal Naval Philatelic Officer, Robert Fosterjohn. head of The Royal Naval Philatelic Society.