Upper Hall from Crawley and Titchfield Market Hall
Weald and Downland Open Air Museum
Singleton, Nr. Chichester, West Sussex. England


All images on this page © the author.
Camera used: Minolta SRT-101.
---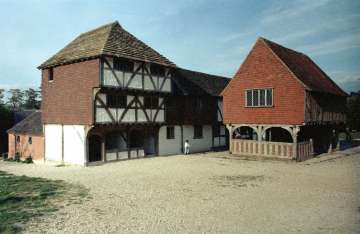 Left; Medieval Shop & Upper Hall from Crawley, West Sussex. Right; Titchfield Market Hall, Hampshire.

The Medieval Shop is from the 15th century and consitutes a pair of shops, side by side, with one having access to the extended upper projecting bays.

The Upper Hall, also from the 15th century, comrises the original surviving timber frame section which has been added to with more recent ends to replace missing parts. In 1989, when this photograph was taken, the building was used for the Museum library (as is the upper floor of the shop) and meeting hall and thus not open to the public.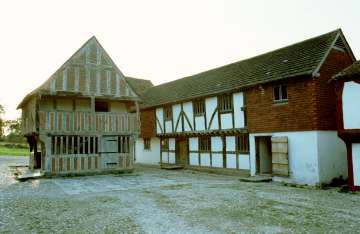 Left; Titchfield Market Hall, Hampshire. Right; Upper Hall from Crawley, West Sussex.

Titchfield Market Hall is typical of many which in the 15th, 16th and 17th centuries were positioned offset to one side, or even in a corner, of a purposeful widening of a village 'main street'. The upper floor of this building was used as a chamber for the town council. Beneath the stairs leading up to this chamber (just visible in this view) is the village lock-up.


---
Feel free to e-mail me with any comments and feedback.
---