Wealdon House "Bayleaf"
Weald and Downland Open Air Museum
Singleton, Nr. Chichester, West Sussex. England


All images on this page © the author.
Camera used: Minolta SRT-101.
---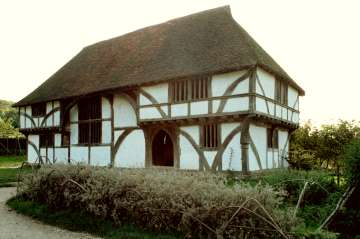 'Wealdon' House "Bayleaf" from Chiddingstone, Kent. Viewed from NE.

Typical of a number that can still be found in the Weald of East Sussex and Kent. This one came from the Bough Beech Reservoir by courtesy of the East Surrey Water Company in who's territory the reservoir and house were.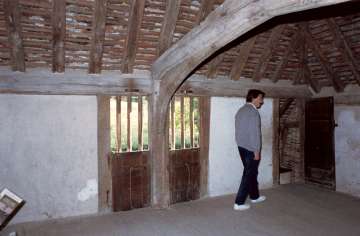 "Bayleaf" interior, upper floor South end

The overhanging 'privy' (Garderobe in medieval French) can be seen in the far corner, towards which a visitor is making his way. The windows in this 'solar' end of the building have unusual vertically sliding shutters. More normally either hinged or horizontally sliding shutters would have been fitted. This end of the upper floor is only jettied out on one side rather than the two of the Northern end.
Garderobe interior

or Jack Aubrey's 'Seat of Ease'

Garderobe exterior (SW corner)


Notice that I have stood well clear having seen another visitor on his way in.


---
Feel free to e-mail me with any comments and feedback.
---