Catherington tread wheel
Weald and Downland Open Air Museum
Singleton, Nr. Chichester, West Sussex. England

All images on this page © the author.
Camera used: Minolta SRT-101.
---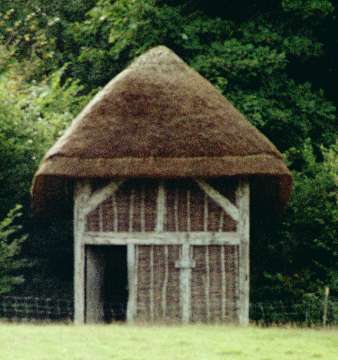 Catherington Tread Wheel (front), Hampshire.

The Catherington Wheel, probably dating from the early 17th century and small for a donkey wheel, was designed to raise water and used on a well alleged to have been nearly 300 feet deep until about 1909.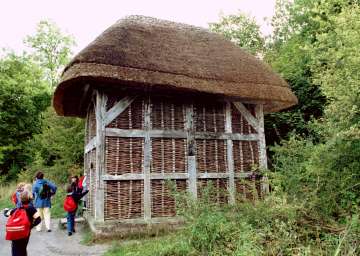 Catherington wheel from the West.

The construction is that of a timber frame with split hazel infill and a thatched roof. The hazel has not been daubed there being no sign of such on the original structure, this being a not uncommon practice for some farm buildings.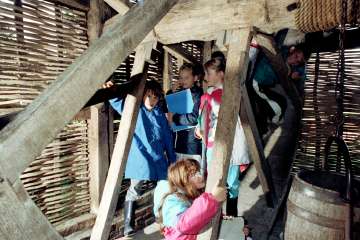 Interior of wheel house.

The single piece mainshaft is of wood and mounted on iron trunnions. The wheel has two sets of four spokes each with each spoke having an additional secondary spoke so that the wheel rim is supported at eight points each side. Raising the bucket (the one here is a reconstruction based upon that at Saddlescombe Manor, near Brighton) would have taken at least fifty turns with the person in the wheel walking a third of a mile. The bucket would descend under its own weight.

---
Feel free to e-mail me with any comments and feedback.
---